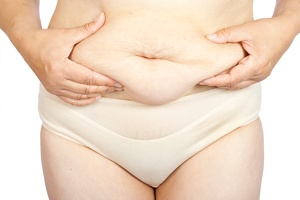 No one likes the puckering and bubbling or "cottage cheese" look of skin that we commonly call cellulite. It can strike anyone, from the skinny and fit to the rotund and flabby. Until recently, there was little that could be done to treat the problem. Our skin is attached to the muscle beneath it with fibers and connective tissue. As we age and/or accumulate fat, it stretches the spaces between the fibers and causes that tell-tale dimpling of the skin. Now you are able to finally have an effective, safe and non-surgical treatment for cellulite!
Laser Pulse Wave (LPW™) is the proprietary protocol belonging to Health Plus Medi-Spa which combines two proven ultra modern technologies: Radial Acoustic Wave Therapy (RAWT) and VelaShape™, – the first and only FDA cleared non-surgical medical solution that effectively and safely contours, shapes and slims the body as well as reduces cellulite. These two combined technologies work in tandem to firm, tone and reduce cellulite in problem areas in as little as 4 treatments. A customized treatment plan will be developed for you with the goal of achieving extraordinary results. If you have tried other cellulite treatments before to no avail, it is likely that RAWT was not used to re-align the connective tissue and collagen fibers underlying the cellulite (see causes of cellulite below). This step is critical and must be done for the effective treatment of cellulite.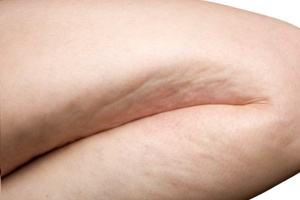 Improve your lifestyle and boost self-confidence. Treatment areas for cellulite reduction include thighs, buttocks, love handles and abdomen, to name a few. LPW contours, shapes and slims the body by decreasing the appearance of cellulite and at the same time reducing the circumference of the treated area.
The first phase of your treatment plan involves the use of Radial Acoustic Wave Therapy (RAWT) also known as Shock Wave Therapy (ESWT). This is a modern, highly effective treatment performed by the application of acoustic sound waves that re-align the connective tissue and at the same time helps to "pulverize" the cellulite. RAWT is derived from lithotripsy (used to disintegrate kidney stones) and delivers high pressure acoustic (non-electrical) waves which realign the connective tissue and collagen fibers that attach your skin to the underlying muscle. This procedure will be performed by a licensed Physical Therapist and/or one of his assistants.
The second phase of your treatment will be the application of the VelaShape™ technology which has been shown to reduce the appearance of cellulite and target localized fat deposits. It is a popular non-surgical alternative to liposuction or surgery. This device uses infrared light, radio frequency energy, massage, and suction to stimulate the metabolism and reduce inches and cellulite on problem areas of the body. The downside of this procedure is that it tends to be somewhat temporary in nature; however when combined with RAWT the results are much better and last longer.
What Causes Cellulite?
It's the Connective Tissue (not the Fat) Darling!
Cellulite is often referred to as "orange peel" or "cottage cheese" skin and is largely a problem affecting women. Heredity, hormones, and age combined with an increase of fat deposits all contribute to cellulite. Women have a higher number of fat cells compared to men. These serve as an energy store during pregnancy and store fat quicker and easier than the fat cells of a man. However, the single biggest problem with cellulite is the structural difference of the connective tissue and collagen fibers for women. A woman's connective tissue/collagen fibers run almost vertical or perpendicular to the surface of the skin compared to a man's that run horizontal or crosswise. This is the primary reason why women get cellulite and men usually don't – hardly fair is it?
Although excessive weight is a factor, there are many women who even after diet and exercise cannot reduce the ugly cellulite appearance of their skin. For these women, the root cause may not be weight related, but is most often due to the underlying alignment of the connective tissue and collagen fibers that attach the skin to the muscle below. No amount of exercise or diet will change the structure of your connective tissue or collagen fibers. No cellulite treatment will be effective without first re-aligning the underlying collagen fibers and connective tissue. You cannot smooth your bedspread without first straightening the bunched up sheets underneath; similarly, you cannot have smooth, sexy body parts without first re-aligning the underlying connective tissue and collagen fibers that attach the skin to the muscle beneath.
LPW™ – How Does It Work?
During this two part procedure, the therapist will first use a hand piece for the RAWT directly on the area requiring treatment. The RAWT hand piece delivers high intensity acoustic pulses that penetrate deep into the tissue and realigns and reduces the collagen fibers and connective tissues that are the underlying cause of cellulite. This is the most important part of the procedure since the collagen fibers and connective tissue must not remain in its present state in order for the second phase of the protocol to be effective. You may feel some discomfort during this phase of the LPW treatment, but most patients tolerate the procedure well.
The second phase of the protocol involves the VelaShape™ treatment which is done by way of a second machine and hand piece placed directly on the area to be treated. The hand piece has mechanical rollers to massage and smooth the skin while directing infrared radio frequencies deep into the treatment area. The radio waves help to warm the tissue underneath and cause the collagen fibers/connective tissue to further break apart and re-align as well as break up the fat cells which will be flushed from the body via the lymph nodes to be disposed of as waste. The connective tissue and collagen fibers will then reform without causing the undesirable orange peel look.
How Many Treatments will I Require?
The amount of treatments will depend on a number of factors such as genetics, age, severity, nutrition, physical condition, and your over-all health. While it is likely you will see results after as few as 3-4 treatments, most patients see their most improvement after their 6th treatment. We generally recommend 3 treatments of combined RAWT/VelaShape followed by 3 more treatments of VelaShape only. We generally recommend these treatments be done each week, over a six week period. In general, each treatment will take around 45 minutes.
After and during your LPW™ treatments, your lifestyle choices are extremely important. Regular exercise combined with a sensible diet and the appropriate caloric intake will result in you seeing the most benefit from the treatment. Smoking, excessive alcohol consumption as well as other vices will have a negative impact on the outcome of your treatment. If you maintain an inactive lifestyle with poor nutrition and/or a high caloric intake, you may receive little or no benefit from your LPW™ treatments. After the completion of the treatment program, many of our clients request periodic "touch-up" treatments to assist in maintaining their ideal self. In general, each treatment will take approximately 45 minutes to 1 hour.
What is the Recovery Time for LPW™?
With the LPW protocol, there is virtually no downtime. You can leave your treatment and resume your regular activities immediately. It is important to drink plenty of water following treatment to properly hydrate your body.
Are There Any Side Effects of LPW ™?
Some patients notice some minor bruising, but this is temporary and not long lasting. If you are taking anti- coagulants, you should avoid these treatments as this type of treatment can cause increased blood flow to certain areas. There is also a reported increase in redness and heat for about an hour after a treatment. Some patients report a slight discomfort during the RAWT portion of the treatment as this is the most aggressive (collagen re-alignment) phase; but the discomfort subsides as soon as this phase of the protocol has been completed.
What are the Benefits of LPW ™?
Effective – Most patients notice results in as little as four treatments.
Risk Free – No harmful side effects like liposuction or surgery- that have little effect.
Convenience – This is a fast procedure with no down-time required.
Virtually Painless – There are no injections, incisions or anesthesia necessary.
Reduction in Size – In clinical studies, patients report an average reduction of about 1 inch post treatment series. In clinical trials, the range of circumferential reduction was between 0.5-3 inches.
Firming – LPW helps shape and contour the body while offering tighter, smoother skin.
Cost Effective – One of the most cost effective procedures available.
Did we say Effective? We know of no other procedure as effective and long-lasting for cellulite treatment as LPW!
How Much Does LPW ™ Cost? – And Yes . . . Your Worth Every Penny!
This type of procedure is customized depending on the number of areas treated and the scope of work required. Your best estimate of cost will come after your initial consultation. Generally, when working to reduce the cellulite of the thighs and buttocks for example, there will be 5-6 sessions of approximately 45 minutes each. A person of average size with "average cellulite" could expect a total treatment cost of approximately $999. If you choose to have only the back of the upper thighs treated, each session will be about 30 minutes and might cost as little as $399.
Am I an Eligible Candidate for LPW ™?
Any person who has cellulite, dimpled skin and pockets of hard to get rid of fat is a candidate! This procedure is effective for many areas of the body such as upper thighs, legs, hips, buttocks and abdomen. Arms can be tightened as well as saddlebags and love handles. Unsightly bra lines can also be diminished.
It should be noted that because cellulite is related to the number and size of fat deposits, an effective diet and exercise program is essential to combat cellulite. The LPW program is for those individuals who have already undertaken a weight loss and exercise program and now require "extra help" in certain problem areas. If you have an excess weight condition, high body mass index (BMI) or have not started an exercise/diet program; you will not be a candidate for LPW.
Health Plus Medi-Spa has contracted with Dynamic Physiotherapy who is the premier provider of ESWT/RAWT in Alberta (see www.dynamicphysio.ca). They have been doing ESWT/RAWT longer than any other group in Canada and have thousands of satisfied patients. You will be seen by a Physiotherapist from Dynamic who will access your condition and determine if you are a candidate for the LPW program. You will not be charged for this assessment. If you are an eligible candidate, you will also be seen by a certified Laser Technician from Health Plus Medi-Spa who in conjunction with Dynamic Physiotherapy will customize a program for you.
What is the Secret of the Stars?
Now You Know How They Look Sooo Good!
This innovative therapy is chosen by an increasing number of women to reduce their cellulite or in many cases eliminate all visible signs of cellulite. In many cases, women start to feel softening and smoothing of the skin in as little as 3-4 sessions, while visual changes start to become noticeable typically between 5-6 sessions. Stars such as Madonna, the Kardashians and many others use RAWT and/or VelaShape because of its effectiveness, safety and ease.
Reshape your overall figure, including areas such as thighs, hips, buttocks, abdomen, love handles and more.
VelaShape™ has been FDA-approved and has been shown to produce measurable results on national TV segments such as Dr. Oz, The Dr's, The Rachael Ray Show, The Dr. Phil Show, Keeping up with the Kardashins, and on many news reports. You can also see the VelaShape™ technique demonstrated in the video below.

| | |
| --- | --- |
| Before | After |
| Before | After |
| Before | After |
Actual Patient Photos – Individual results may vary.