Improve the Appearance of Your Skin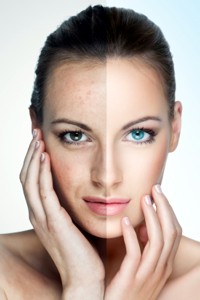 PhotoRejuvenation involves a serives of Intense Pulsed Light (IPL) treatments that improve the appearance of rosacea, flushing and sun-damaged skin, age spots, skin texture, and photo aging. Treatment also improves the appearance of mild acne scars, reduces large pores, corrects dark circles around the eyes, and reduces fine lines. Additionally there is little to no down time and minimal discomfort. After treatment you will notice any unwanted hyperpigmentation start to darken. This is normal and in the next 7-10 days this will crust off and be exfoliated.
Prior to treatment, an anaesthetic cream and cooling gel is applied to the skin to minimize discomfort. Each laser pulse lasts less than half a second, causing a small sting and warming sensation.
IPL PhotoRejuvenation can be performed on full body areas including face, neck, decolette, hands, and back.
| | |
| --- | --- |
| Before | After |
| Before | After |